Cavalier King Charles Spaniel Club of NSW
Inc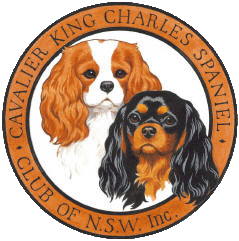 Sponsors, Affiliations and Links
"To promote excellence in breeding, showing, trialling, obedience and other canine related activities and the ownership of temperamentally and physically sound pure bred dogs by responsible individuals across Australia.
To promote responsible dog ownership and encourage State Member Bodies to put in place programs to that effect.
To act as spokesperson on all canine related activities on a National basis on behalf of State Member Bodies and to pledge assistance and support to the respective State Member Bodies." - Mission Statement ANKC
"We are an association which promotes the welfare of purebred dogs and responsible breeding. Come to us to learn about purchasing and caring for dogs; how to become a responsible breeder; or to get involved in a fun canine sport like agility, herding, obedience, retrieving and more." - Dogs NSW
Australian Cavalier King Charles Spaniel Clubs
International Cavalier King Charles Spaniel Clubs
Further Reading
Cavalier King Charles Spaniel CEO. Many of the Cavalier pictures on this site have been made available with our club's thanks, from this wonderful site for Ch. Jewelcroft's CEO. " A classic Cavalier King Charles Spaniel in every way. Sporting, fearless, intelligent. Exhibiting outstanding health. Structurally perfect with smooth top line, solid bone, wrapped up in a luxuriant, yet mat resistant, coat."
With Thanks
Site Visits