Cavalier King Charles Spaniel Club of NSW
Inc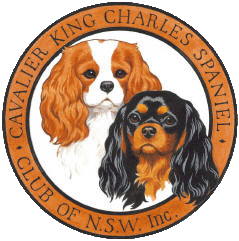 Breeder Directory
Club Member Breeder Directory
The following breeders are Club Members who have elected to be listed on the website.
Please note that the Cavalier King Charles Spaniel Club of NSW accepts no responsibility for any agreement entered into by a breeder and a puppy buyer. The CKCSC of NSW Inc can only encourage its members to health test and follow appropriate breeding guidelines. The club has no powers of enforcement. Unfortunately full health testing and adherence to breeding guidelines cannot guarantee that all dogs will be free of all genetic health problems.
As breeders listed on the Cavalier Club web site are all Members of Dogs NSW, the following disclaimer applies:
"The breeders who appear throughout this website are merely breeders that DOGS NSW understands may have litters for sale. In providing you with their details, DOGS NSW makes no representations as to the reputation of any breeder or as to the soundness or suitability of any puppy you may decide to acquire from any breeder. You must satisfy yourself that any puppy you may decide to acquire is healthy, sound and meets your requirements.
Dogs NSW accepts no responsibility in respect of information contained in the Breeders Directory or in respect of any puppy you may decide to acquire from any breeder in it."
All breeders who are current members of DOGS NSW have agreed to abide by the DOGS NSW Regulations, including the Code of Ethics.
The directory is in ascending alphabetical order by Kennel name.
​
All contact information is taken from the Club Membership Database and updated here every 12 months after membership renewals or as requested. All members must indicate annually if they wish to be on this directory via the renewal form. They should review their membership details at renewal time as provided on the form and advise the Membership Secretary if any discrepencies. If any discrepencies are displayed below, please reach out to the Club via the Administration form found at the back of the Club Newsletter or via the Contact Form
​
The Club wishes to remind all members and purchasers that there are regulations for movement and care of animals during the COVID -19 lockdown. Please refer to the Club news for details on where to get the information - https://www.cavalierclubnsw.com/single-post/2020/03/16/COVID-19-Update