Cavalier King Charles Spaniel Club of NSW
Inc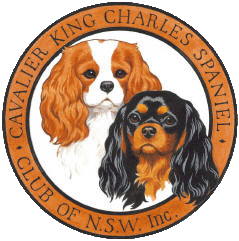 Puppy Register
Looking to purchase a puppy Cavalier?
The Cavalier King Charles Spaniel Club of NSW runs a Puppy Contact Service, which provides the details of Club members who currently have puppies available. You can contact the Service Co-ordinator, Robin Buckland: telephone 02 9606 5114 or email
Please note that the Cavalier King Charles Spaniel Club of NSW accepts no responsibility for any agreement entered into between a breeder of a puppy and a puppy buyer. The puppy buyer accepts full responsibility for choosing the breeder and the puppy they purchase.
As breeders listed on the Cavalier Club web site are all Members of Dogs NSW, the following disclaimer applies:
" The breeders who appear throughout this website are merely breeders that DOGS NSW understands may have litters for sale. In providing you with their details, DOGS NSW makes no representations as to the reputation of any breeder or as to the soundness or suitability of any puppy you may decide to acquire from any breeder. You must satisfy yourself that any puppy you may decide to acquire is healthy, sound and meets your requirements.
Dogs NSW accepts no responsibility in respect of information contained in the Breeders Directory or in respect of any puppy you may decide to acquire from any breeder in it."
All breeders who are current members of DOGS NSW have agreed to abide by the DOGS NSW Regulations, including the code of ethics and Club constitution.
The following puppies are currently available from our breeders.
​
The Club wishes to remind all members and purchasers that there are regulations for movement and care of animals during the COVID -19 lockdown. Please refer to the Club news for details on where to get the information - https://www.cavalierclubnsw.com/single-post/2020/03/16/COVID-19-Update
ATTENTION Breeders, please ensure Application Form is filled in and submitted when advertising litters for the Puppy Register.