Cavalier King Charles Spaniel Club of NSW
Inc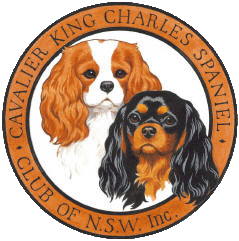 Club Pointscore Competition
Club Point Score Results
​
CLUB POINTSCORE COMPETITION RULES
​
At the nominated pointscore shows, points are accrued as follows
1st 5 points
2nd 4 points
3rd 3 points
4th 2 points
5th 1 point
When 3 or less dogs are in a class, then points awarded shall be –
1st 3 points
2nd 2 points
3rd 1 point
The Best in each Class winner will receive 5 points. In addition the following points are awarded –
1 additional point for each class in breed winner (i.e. Best Minor) except
10 points BOB
9 points RUBOB
8 points CC winners not awarded RUBOB
7 points Res CC winners who are not awarded RUBOB
This system applies to all pointscores – Senior, Junior, Stud Dog, Brood Bitch, New Exhibitor Senior and New Exhibitor Junior (New Exhibitor being a member who has been exhibiting a registered dog for a period not exceeding two years) though in the case of the two progeny trophies it is the sire and dam which take the points won by their offspring.
Contestants for each of the pointscores must be completely owned by members of the club (if they are jointly owned then all co-owners must be members).
However, when an additional show is nominated a NSW Pointscore show and classes are placed to 3rd, all points will be reduced by 2 as follows; 1st – 3 points, 2nd – 2 points, 3rd – 1 point. The Best Class winner will receive 4 points.
In the progeny trophies only the contenders themselves need to be owned by club members; it is not necessary for the offspring which score for the contenders to be owned by members.
Participants in the pointscore must be financial members of the club prior to the day of the show.
Points accrue from show to show over 12 calendar months but are not transferable from Junior to Senior.
A maximum of 10 points can be won at each show for Senior and Junior pointscores.
For the Stud Dog and Brood Bitch Competition the best 5 placings at each Show are only used.