Cavalier King Charles Spaniel Club of NSW
Inc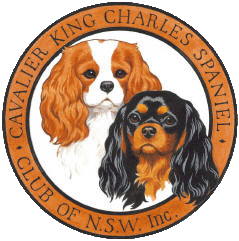 Rescue Service
Why do we Rescue?
These days only a few come to us from dog pounds, the majority are surrendered by their owners rather than surrender them to a pound or other animal rescue. Many are in excellent health and have been well cared for and able to be adopted quickly. Others need more TLC and whilst being fostered are given a vet check, update of their vaccination, heartworm test, worming and desexing if not already neutured before a new home is sought. The younger, healthy dogs are quite easy to place, but the older ones with a problem or two are harder to rehome.
There are several club members who get involved and help with rescue, some act as a foster carer until a new home is found, some take in old pensioners, giving them a home for their final years, some members are able to help with pick up or delivery of rescue dogs in their local area. The club appreciates the continued assistance from these generous people.
Thank you also to those other special people who have in the past adopted a rescue dog through our rescue scheme. Should you like further information or to add your name to the list regarding a rescue dog, please phone or email with contact details. We are particularly greatful for those enquirers who are willing to consider a rescue over the age of 6yrs, able to give an oldie a home for their final years. Although we generally cover costs with the younger dogs, the older ones usually require more treatment before they can be rehomed and for this reason the Club is always grateful for any donation. Rescue can be very rewarding, but it can also be hearbreaking. Many a tear has been shed by the people involved in rescue.
Please Donate
If you would like to make a donation to the Club's Rescue fund please contact our Rescue Co-ordinator:
Felisha Holloway Phone 0424 118 415
or via the contact section below
Special Homes for Special Cavaliers in their Twilight Years
Whilst we appreciate all those people who enquire and are on our waiting list, the club is frequently asked for assistance to rehome oldies, often 7-10yrs. Most often these dogs are still in excellent health, desexed, vaccinated etc, just in need of a new loving home for some reason or another. So if you feel you could open your home and heart, to a Cavalier in its twilight years who would love you just the same, please contact us,and let us know you will consider one of the more senior aged rescues.
​
​
Thankyou Rhonda Callaghan
Please note that Rhonda Callaghan is taking a long earned rest from the role as Rescue Co-ordinator for the Club. The Club has been increadibly privelledged to have had Rhonda on board over the many years, and she has been an incredible asset to the Club and to the betterment of the Cavalier breed. The Club cannot thank Rhonda enough. We wish her well.
Welcome Felisha Holloway
Please welcome Club member, Felisha Holloway, who will take over the role as Rescue Co-ordinator.
Interested in a Cavalier Rescue?
If you would like to enquire about adding your name to the rescue waiting list, please Contact Us and provide the following details:
Your name,

email or other contact detail

Details of any other pets in the household,

Ages of children,

Approx work hours ie how long would the dog be at home alone for.

What area of NSW you live in.
The more information we receive about what you are hoping to adopt the easier it is to match up a suitable dog who may be in need of rehousing. All inquiries must be renewed on a monthly basis, this enables us to know you are still interested in being on the waiting list and avoids wasting resources, contacting people who no longer wish to adopt.
.