Cavalier King Charles Spaniel Club of NSW
Inc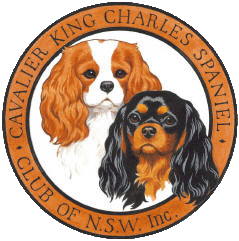 Caring for your Cavalier
General Considerations
​Apart from their excellent qualities, which all Cavalier lovers ...LOVE, They do drop coat twice a year. They also have poor road sense, so outside the well fenced family property they should always be kept on a lead.
if you are contemplating buying a Cavalier please make certain that your fences are secure. All dogs will dig when young and will find a way out if it is at all possible.
Annual checks and innoculations are essential, as is regular worming. Your veterinarian will explain the dangers of heartworm and advise on the preventative measures.
It should be noted that certain weeds and grasses might have adverse affects.
A good diet is essential in keeping your Cavalier fit and healthy.
Living Quarters
Cleanliness
Location
Veternary Care
Planning visits
Innoculations
First Aid
Health Insurance
Walking
Leads
Harnesses
Controll
Washing and Grooming
Products
Fur
Nails
Teeth
Diet
0-3 months
3-6 months
Up to 1 year
1+ years
10 + years
Foods to Avoid
Socializing with other Dogs
Companions
Other Breeds
Travelling in the Car
Crates
Seat belts
Rest Stops