Cavalier King Charles Spaniel Club of NSW
Inc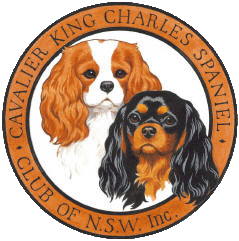 About the Club
​
The Club is a non profit organisation focused on promoting the Cavalier King Charles Spaniel (CKCS) breed. This includes education on the breed, minimising the incidence of hereditary disease and highlighting activities such as Conformation Showing, Obedience and Agility/Jumping Trialing.
The aim of the Clubs to promote and encourage the breeding, standard (https://www.cavalierclubnsw.com/breed-standard) and exhibition, of purebred Cavaliers and to maintain their welfare at all times. We do not support the commercial breeding of Cavaliers or breeding from pet quality dogs.
The Club conducts three specialty shows a year; two Championship Shows, one at Easter, the other in September, and an Open Show in June. These three shows provide the winners of our Point Score competition which determines the most consistent Junior and Senior dogs and the Brood Bitch and Stud Dog of the Year. The Point Score competition is only open to Club Members. See shows and events (https://www.cavalierclubnsw.com/shows-and-events).
In addition to the newsletter (http://www.cavalierclubnsw.com/club-newsletters), the Club publishes an annual Year Book which is not only a pictorial history of the breed but also a source of information for all members. It is not only a book for show dogs, people with pet Cavaliers are encouraged to advertise their well-loved companions.
The Club sells a number of Cavalier items, such as highly recommended authoritative books about Cavaliers (https://www.cavalierclubnsw.com/recommended-reading), Cavalier statues and other memorabilia.
We have a Rescue Service (https://www.cavalierclubnsw.com/rescues) for lost, found or unwanted Cavaliers. This service aims to reunite Cavaliers with their owners or rehouse them if necessary. We regularly undertake fund raising towards the maintenance of this service as often veterinary costs or boarding fees are involved.
The Club also offers a Puppy Contact Service (https://www.cavalierclubnsw.com/breeder-directory) which is to help put the public into contact with reputable breeders. This service is only available to Club Members with over twelve months membership and only the Member's pet quality puppies are able to be placed on this register. Most of our members place their pet quality puppies on the limited register to discourage the new owners breeding from dogs not of a suitable standard. Details of the Puppy Contact Service can be found in the Club newsletter and on the Club website.
Club General Meetings are held bi-monthlly. They commence at 7:30 pm and we encourage all members and visitors to come along and stay to have a "cuppa" and a chat after the meetings, if at all possible.